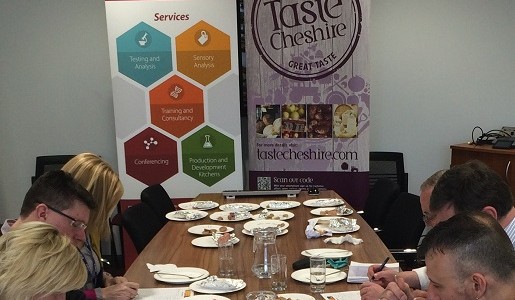 After more than four hours of tasting sausages from 20 different butchers from across Cheshire and North Wales judges have revealed their finalists for the NoWFOOD, Chester Food and Drink Festival Sausage Competition.
Chairman of Judges and 3 times previous winner of this competition as well as UK National Sausage Champion, Steve Vaughan of Vaughans Butchers in Penyfford said "This is the hottest competition yet with the standard of Sausage making in both the plain and flavoured category of the highest calibre anywhere in the world. When it comes to making sausages we, in Cheshire and North wales bow to no one as our results nationally show. This is a rigorous blind tasting with 10 judges and the three finalists in each category now have their work cut out to be named the 2016 Champion at the festival".
The NoWFOOD Centre at the University of Chester, with its "state of the art" cooking facilities provided the perfect venue for the final judging to come up with the three finalists in each division.
The 3 finalists in the Plain Sausage Category are :
The Hollies of Tarporley
Oakbank Farm – Backford
Edge Butchers – Handbridge
And the three finalists in the Flavoured sausage category are:
Cottom Foods of Widnes with their Cracked Black Pepper Sausage
David Joinson of Chester Market with his Pork & Jalapeno flavoured Sausage
Pen y Lan Pork of Pen y Lan with their Moroccan flavoured Sausage.
Sausages were judged on their appearance, texture and finally taste with marks awarded by all the judges.
The finalists will be judged by the first 40 people who turn up at the Food and Drink Festival Demo Kitchen on Sunday 27th March at 10.00am to see the sausage final where marks will again be awarded to discover the Plain Pork Sausage Champion, the Flavoured Sausage Champion and then the overall NoWFOOD Sausage of the Festival 2016.
The NoWFOOD Sausage Competition is part of the Chester Food Drink &Lifestyle Festival to be staged at Easter at the Chester Racecourse, for more information about the competition and the festival go to www.chesterfoodanddrink.co.uk
Chester Food & Drink Festival Limited is a limited company registered in England and Wales.
Registered number: 05364122.
Registered office: West Wing, Chester Railway Station, Station Rd, Chester, CH1 3NT*
*Mail should be served at Churchill House, Queen's Park Campus, Queen's Park Road, Chester CH4 7AD.